JANUARY 2017
Last year Katherine from I WISH I LIVED IN A LIBRARY decided to challenge herself to doing one pin a week from her ever growing PINTEREST boards and post about them on the last Saturday of each month. The posts were a big hit with me and I am elated that she has decided to host a
LINK-UP
feature this year!
ORIGAMI
I had never folded an origami shape successfully (unless you count paper hats and cootie catchers) in my life, so I decided to make it my first pin attempt. I had a different tutorial pinned on my board, but I went with Cait from
PAPER FURY'S TUTORIAL
because I first saw these cute LUCKY STARS in her IG Bookstagram photos.
PAPERFURY
on INSTAGRAM
▪ ▪ ▪
So how did mine turn out?
FAIL! Ha ha. My first attempt was with printer paper, but I don't think the strip was long enough. I then tried cutting a thinner strip so I could wrap it around more times, but then it was too tiny to dent in to make the star shape. I tried packing paper next so I could cut longer strips, but it was too flimsy to hold a shape (for me anyway).
VERDICT
I am on a mission to find the right paper because I got the gist of it and managed to dent one star a couple of times. I think if I keep trying I will succeed, damn it. When I do manage to make one I'll post a pic on a future 52 Pins
.
▪ ▪ ▪
*I also could have Cait make me some because she has an Etsy shop,
PAPER FURY INK
.
THE MOISTEST CHOCOLATE MUG CAKE
(vegan-no eggs)
First of all when they say mug cakes are quick, that is just the "baking" time, getting out and measuring the ingredients takes just as much time as when making a full size cake.
▪ ▪ ▪
Also, when I started to stir it, even wth the liquid ingredients put in last, the cocoa floofed all over the place!
VERDICT
It tasted a little strange. It think it needed more sugar and less salt. The mouth feel was weird. Baz Manchild (blog nickname), my college age son, described it as moist morphing to dusty dry
.
I don't think I will try this one again, but I am up for trying other mug desserts. I would rather make a full pan of brownies
.
STEAMED
EGGS
(instead of boiling)
VERDICT
FABULOUS! It took less time because you don't have to boil an entire pot of water. There was less work because you don't have to fish them out of boiling hot water or strain them. They peeled like a dream. The article explains the science behind this. It is now my new way to "boil" eggs!
SLOW COOKER
I am going to do one crockpot pin a month because it will force me to use the fancy dancy
Hamilton Beach 3-in-1 Slow Cooker
that has been gathering dust in the far reaches of my bottom kitchen cabinets for ten years.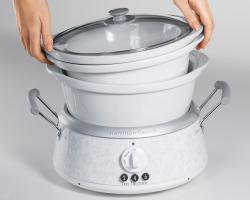 I chose something easy for my first try.
SLOW COOKER GARLIC HERB MUSHROOMS
Baz Manchild and I both love garlic and mushooms; plus I figured I could make this often because I usually have all of these ingredients on hand:
INGREDIENTS
:
▪ 24 ounces of mushrooms
▪ 4 cloves garlic, minced
▪ 1/2 teaspoon dried basil
▪ 1/2 teaspoon dried oregano
▪ 1/4 teaspoon dried thyme
▪ 2 bay leaves
▪ 1 cup vegetable broth
▪ Kosher salt and freshly ground black pepper, to taste
▪ 1/4 cup half and half
▪ 2 tablespoons unsalted butter
*2 tablespoons chopped fresh parsley leaves*
I ommited the parsley because neither I, nor Baz, like it.
COOKING TIME
4 Hours - LOW
2 Hours - HIGH
Stirring in the butter and half and half 30 minutes before the end of the cooking time.
It took over three hours on high!
VERDICT
Ugh, never again! It took nearly 3 1/2 hours to cook the mushrooms to tenderness. way too much time for only a sidedish. The cream "sauce" was just whitish colored broth. The recipe calls for too much vegetable stock. Then at the end of the instructions is says you can add a cornstarch mixture near the end to make it "creamier". That ingredient should have been on the list because it surely needed it and I didnt have any cornstarch. The taste was bland and the texture of the mushrooms was a bit rubbery. I am going to throw them in the mini-chopper and add them to rice for dinner tonight. I would rather cook a dish of this type on the stove top.
⚫
Have you done origami? Do you use a slow cooker? Have you made any mug cakes?