BOOK-MINDED HOLIDAY GIFTS
TFF is based on
TOP TEN TUESDAY
by The Broke and the Bookish. I always frown in a defeated manner when trying to come up with ten answers for TTT, so...
BOOK-MINDED DECOR GIFTS (I would love and adore) FOR THE HOLIDAYS!
*please excuse the different sized fonts. Blogger is having another tantrum.
⚫
I love black book shelves.
The Manchild is buying me a new mattress and box springs for the winter holidays, how adulting of him, so I think these will have to be a New Years present to myself. I already know I am ordering them from the
Home Depot
website.
They are 5 and 1/2 feet tall and 2 feet wide. I'm ordering three. They are $45 each with free shipping. $135 is not bad for nearly 6' by 6' of shelving space.
I know I would appreciate a better reading chair as a gift. I have been looking for one for a couple of years now. All of the styles I like are well over $300 and I refuse to pay much more than $I75. Ha ha. *good luck with that, La La.
Purple velvet would be my heart's dream!
Art seems to be something people forget when buying for book lions and book dragons...
I would adore a 24X36 inch poster, nicely framed. Framed book quotes are wonderful, too.
I am obsessed with cache boxes. How about you?
Book shaped storage is even better! If they are filled with cookies, candy, or tea; no wrapping is required! These could be used for storing bookmarks, stationery and pens, colored pencils for coloring books, all those important business cards from publishers/authors/bloggers, or even mundane things like a sewing kit. These are from
Ebay
, but I saw the websites for Home Depot and Target have them also. Searching on Pinterest was more fruitful than on Google.
◾◾◾
I think you also know this is my hands down, absolute favorite pillow of all time!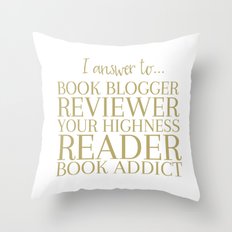 I can't decide if I want this Cait quote on a
pillow
or a laptop skin.
Is there a book cover poster you would love framed?
What are some non-book gifts you are happy to receive?