THIS IS MY GENRE - TELL ME YOURS
I first saw this tag on
Anne's blog INKED BROWNIES, and then on Danielle's blog BOOKS, VERTIGO AND TEA, and then on Liz's blog COVER TO COVER! The links to their posts are at the bottom of this page. It originated on Drew's blog
THE TATTOOED BOOK GEEK
. I love the last question!
WHAT IS YOUR FAVORITE GENRE?
You wouId never guess with all the Fantasy I read, but SCIENCE FICTION!
WHO IS YOUR FAVORITE GENRE AUTHOR?
FRANK HERBERT
The author of the
DUNE CHRONICALS
.
A friend of mine in college gave me the first three as a paperback boxed set for my birthday, but I didn't read them until seven years later. I bought the next three in hardcover. I have read the trilogy four times, but all six only twice. I love everything about these books: the world building, rich settings, vibrant characters, and intricately woven story threads
WHAT IS IT THAT KEEPS PULLING YOU BACK?
I love spacecraft, Astronomy, robots, and technology in real life so reading stories about these things imagined in the future is fascinating. Oh, and aliens... I adore the thought of aliens in all their many forms.
WHAT BOOK STARTED YOUR LOVE OF THIS GENRE?
A WRINKLE IN TIME
My fourth grade teacher was reading it to our class and I moved before she was finished. The teacher in my new school was reading Little House On the Prarie to the class, so I went to the library and borrowed Wrinkle so I could finish the story. I read it two times before I took it back. I think I have read it six times. I got the book from the library to read to my son and I ended up reading the entire twenty-some book series, except for the last book the library didn't have.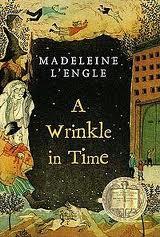 IF YOU HAD TO RECOMMEND ONE BOOK FROM YOUR FAVORITE GENRE TO A NON-READER OR SOMEONE LOOKING TO START THAT GENRE, WHAT BOOK WOULD YOU CHOOSE AND WHY?
The non-reader aspect is difficult because Dune is definitely not newbie friendly and A Wrinkle In Time might seem too childish to some adults. If the person likes YA, I would recommend the
TIN STAR DUOLOGY
. It deals with a lot of sociopolitical issues like racism, but on a galactic level. Maybe
THE HITCHHIKER'S GUIDE TO THE GALAXY
because of the humor? Who wouldn't enjoy reading about a robot with the personality of Eeyore?
WHY DO YOU READ?
I started reading when I was four. I loved reading with all my heart. I used to get up after my bedroom door was closed and read by the light of my aquarium. I just read to read. I think I still do. I hear a lot of people say they read to escape their troubles, or the stress of real life, and that might be a perk of reading for me, but I really think I just read to read. Ha ha. It is relaxing and entertaining, but again they are side effects for me. I read when I am happy, sad, bored. I prefer reading over television, but I do not prefer it over socializing and cannot read on vacation, for me there is too much to look at! I listen to audiobooks if I am eating by myself, and while doing hands needed things like folding laundry, or doing my my nails. I guess I am addicted to having a movie playing in my head when there is no other environmental stimulation. It keeps my brain busy!
Did the tag...
Anne at
INKED BROWNIES
Danielle at
BOOKS, VERTIGO AND TEA
Liz at
COVER TO COVER
Jolene at
JO'S BOOK BLOG
▪ ▪ ▪
I tag EVERYONE! This is such a great tag I know everyone will want to do it. Just make sure if you do, to credit Drew's blog and link back to his originating post:
HERE
.
▪ ▪ ▪
If you do the tag leave your link in the comments. I will visit and add it to the list.
What is your favorite genre?