BOOKS I'D BUY IN A HEARTBEAT
TFF is based on
TOP TEN TUESDAY
by The Broke and the Bookish. I always frown in a defeated manner when trying to come up with ten answers for TTT, so...
BOOKS I WOULD BUY IF I WAS GIVEN A FULLY LOADED GIFT CARD
⚫
I am going to cheat with series I want to complete in hardcover.
▪1▪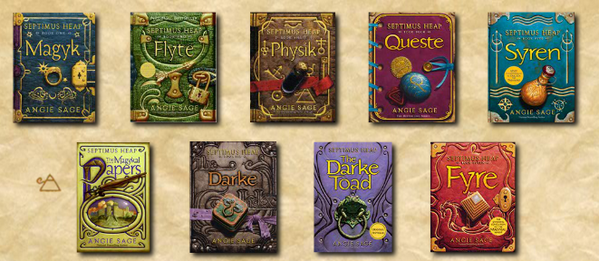 I need:
and the novella
There is also a second series started in this world called
TODHUNTER MOON
. There are three books out and I want those in hardcover, too!
PATHFINDER
SANDRIDER
STARCHASER
▪2▪
There are no good crisp cover images for these books anywhere. I wonder if this is done on purpose to keep people from printing their own frameables. I assure you these covers are gorgeous!
GOODREADS
THE FAIRYLAND SERIES
I need:
THE GIRL WHO FELL BENEATH FAIRYLAND AND LED THE REVELS THERE #2
and
THE GIRL WHO RACED FAIRYLAND ALL THE WAY HOME #5
▫▫▫
The cover art is only part of the collectability of these books; there are also the beautiful chapter headers...
Here is the trailer...
▪3▪
THE LAST CHRONICLES OF THOMAS COVENANT
I have the first six books in hardcover and I need the last four.
THE RUNES OF EARTH
FATAL REVENANT
AGAINST ALL THINGS ENDING
THE LAST DARK
▪4▪
GOODREADS
A WRINKLE IN TIME QUARTET
These are digest size paperbacks (a little bit larger than regular paperbacks). I want these instead of the hardcover boxset because I like the cover art better.
▪5▪
GOODREADS
TIFFANY ACHING DISCWORLD
I want all of the
DISCWORLD
books, but I don't know if I want them all in hardcover, or necessarily all in physical form. I do know that I want the Tiffany Aching arc in hardcover and I want them with the above cover art. At first I thought the style shown above was only in paperback, but I saw a hardcover of
THE SHEPARD'S CROWN
on Book Outlet. I have to do some more research because I don't want to get one book in this style hardcover and not he able to get the rest.
What would you buy with a loaded giftcard?