TFF is based on
TOP TEN TUESDAY
by The Broke and the Bookish. I always frown in a defeated manner when trying to come up with ten answers for TTT, so...
WHY I LOVE ANIME
I love anime! Why? I can't quite put my finger on it, but I was first drawn to the lush and detailed animation and the way the "shot" movements are cinematic in Japanese anime films. I have also been caught up in the world of anime television series, and some of the animation in those is quite simple and I enjoy those too, so at this point I am going to leave it there. I think I might do an exploratory post on my personal blog after I have more time to think and research. For now I am going to let you know which movies and television shows started, and best fed my love!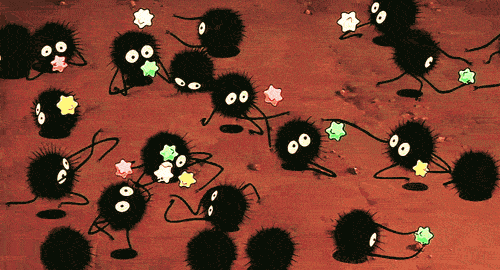 I am going to do two lists of my top favorite animes: one for movies and one for series.
* I have given the Wikipedia links, but my wish is that you don't read the plot if you plan on watching any of them.
This film was on HBO for the first time in 2003. My son and my ex and I watched it and we were hooked; well at least my son and I were. Sebastian and I must have watched it twelve times the month it was on. His father thought we were crazy. It was the beginning of my anime addiction. This trailer is excellent!
This was the third movie we rented. I like it a bit better than TOTORO, but my son likes TOTORO better. Jiji the cat was my favorite character in the movie! Here is the Japanese trailer.
This film rates up there with Spirited Away for the both of us. However, neither one of us has been brave enough to watch it a second time because the story is not just heart-wrenching, it is soul shattering. I feel everyone should try and watch it once. I'm not going to link the Wikipedia page, nor the trailer because I think people should watch this movie without knowing any details. I will just leave you with another gif.
*UPDATE: My son returned home from the anime convention he was attending this weekend (I wonder if I subliminally chose this subject for my TFF because of that), and when I was telling him about this post he told me he did watch this movie a second time during high school anime club, but it was not by choice.
There are two FULLMETAL series. We loved them both. There is also the movie I have to watch. Sebastian ended up watching it with his friends and I never got around to it.
Here is another anime you should go into not knowing a squidge about, so no Wikipedia link from me. And please don't cheat because you want the full mind blowing effect of the final episode! I would say that FULLMETAL ALCHEMIST and DEATH NOTE tie for my all time favorite anime series.
Do you watch anime? What are some of your favorites?