I needed a quick regular third post a week, so I copied off Greg's paper, ha ha, and am posting interesting covers on Fridays. Drop by and give his cover a peek over on
BOOK HAVEN
.
⚫
The first Friday of every month will be a book from my own shelves. Week two will be an ARC I have seen on Netgalley or Edelweiss.
Week three will be a Manga or Graphic Novel
; and week four will be a Nonfiction title.
VIEW LAST WEEK'S COVER
GOODREADS
It's no lie that
DEATH NOTE
is in my top five anime series of all time. In fact I would say it trades places with
FULL METAL ALCHEMIST
for the number one spot depending on my mood, so it certainly is destined to show up on my shelves if I ever start collecting manga.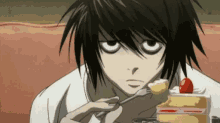 I love L.
There is also a Japanese live action film (not the Netflix adaptation) I haven't seen yet...
I love Ryuk, too! Ha ha!
Do you watch anime or read manga? What are some of your favorites?