TFF is based on
TOP TEN TUESDAY
by The Broke and the Bookish. I always frown in a defeated manner when trying to come up with ten answers for TTT, so...
PICKED UP ON A WHIM
(Please excuse the horrid formating on the old reviews. They have not weathered my multiple blog design changes very well. I will be fixing those as soon as possible, Thank you)
1.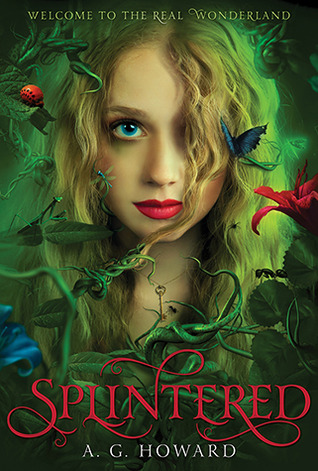 A couple of girls on a Harry Potter social site I belonged to were raving about SPLINTERED in one of our book club groups. I wasn't too keen on reading a fairytale retelling, so I didn't put it on my tbr. There was no way of posting images to the thread on that site, so I had nary a clue what the book looked like. I was at the library and I saw this gorgeous cover in a table top display, so I went over to check it out. I read the back cover and realized it was the book the girls had been flailing over, so I took it home and now A.G. is one of my favorite YA authors.
2
I was wallowing in the quagmire of one of the worst reading slumps I had ever been in when I saw a couple of people on Twitter mention how there was this book, OF BREAKABLE THINGS, that wasn't like Harry Potter, but somehow gave them the same feeling as Harry Potter. First I thought how can a book be like HP but not like HP. Ha ha. Then I thought it was intriguing that two bloggers who do not know each other came up with the same description, so I looked it up and it was $3.49 on Amazon and I bought it. The whim part was that for authors I don't know I NEVER spend more than $1.99. This book was worth five times what I paid because not only did it get me out of my slump, I turned around and reread it immediately!
3.
When I was a poor university student I NEVER bought full price books. I usually borrowed from the library, or bought from the used book store downtown. My step-aunt had a novelty shop that was filled with weird antiques, fantasy whatnots, wiccan stuff, and metaphysical paraphernalia. At that point in time her shop was the only place that carried Dungeons and Dragons supplies (late 70s). She had a Fantasy book section, but I never noticed it much because I was heavy into SciFi at that time. I stopped in to chat with her one day and someone had changed their mind about A WIZARD OF EARTHSEA and left it lying near the cash register. I was instantly drawn to the cover art. I wanted that book! Eloise always gave me a discount, but she said new books were a little different and the only way she felt she could shave a little off was if I bought the entire trilogy. As I remember she also sweetened the deal with a bar of my favorite violet scented handmade soap. So that afternoon I left the shop with $1.00 taken off each paperback, and soap. I loved these books and saved them for my future child(ren). However, Sebastian dnfed the first book. Heh heh.
4.
I was a stay-at-home mom with a reading monkey on my back and my ex was a poorly paid Public Television employee, so the Barnes and Nobles damaged 50%-75% off tables were our best friends. At that time (1995, maybe) I had no idea who this author was, but THE COLOR OF MAGIC cover art excited me. It was 50% off because one corner of the front cover was bent, and it had "Magic" in the title, so the ex bought it for me. I WORSHIPPED THIS BOOK! And then never read another because even the paperbacks are expensive. No one seems to donate Pratchett to the library sales, either. I did get an ebook deal on Wee Free Men, though, and plan to read it this summer. I want to collect them all in paperback, but from Book Outlet and charity shops; bookstore new is too expensive.
5.
When my ex first left I had to do a lot of shopping at Dollar General. They have a rack near the front door with $1.00 paperbacks on it. I always looked, but never saw anything that interested me, until STORYTELLER. That brilliant cover beastie called to me. I loved and adored this book, and went to all four of the Dollar Generals in my area over the next couple of weeks looking for other copies of the book to give away, but none were to be found. It is not available in ebook form, either. I will never let anyone borrow my copy, not even my sister, so if you want to read it you will have to do it at my house. I will make you some tea.
What was your favorite buy on a whim?