NUMBER ONE HUNDRED AND SIXTY-EIGHT
TELL ME TUESDAY
is a floating feature, depending on your reading style, where you tell us what
you read last, what you are reading now, what you will be reading next from your tbr pile, and why. I am curious why people read what they read, so tell me!
▪ ▪ ▪
Joining us this week...
Jolene from
JO'S BOOK BLOG
Plus, I love her PUPDATES with photos about her foster dogs!
My first few weeks back to work after summer break are always hectic, so I have very little time to read and I am still reading The Black Witch.
YOUNG ADULT
SERIES #1
FANTASY
DIVERSE
RACISM / SEXISM / BIGOTRY
DISABILITY MARGINALIZATION
PRIVILEGE
MENTAL HEALTH
FEMINISM
SOCIOECONOMICS
SOCIOPOLITICAL
If you are okay with the way these subjects were dealt with in the Harry Potter books, The Wicked Oz book series, A Long Way to a Small Angry Planet, and many many other books I have read and loved and you have read and loved, this book is no different. The one star mob loved quoting the story out of context, so I'll give you a couple in context...
"People see what they expect to see," he says sharply. "Through a filter of their own hatred and prejudice."
*This comes after she questions a professor about something she heard about the Lupines, from an adult, as a child growing up in her rural village.
"There's stark fear in Tierney's eyes. "Elloren, if Vogel wins, the world changes." The entire Western Realm quickly becoming one giant trap for everyone who isn't Gardnerian. "They'll hunt down the Icarals first," she whispers, her tone deadened. "Then the Urisk and the Kelts..." She stops, her voice breaking. Stricken, I finish for her. "And then they'll come for the Fae."
*The MC is Gardarian, the race in power, but she is worried about what will happen to others if this tRumplike politician is elected. Why? Because she is at a multicultural school away from her rural bubble and is seeing who these people really are. This is how people get woke.
One of the one star mob said that we don't need another book about a white girl becoming not racist, that this should be normal already, but you know what, it's not, and these are the types of books that help those white girls (and boys) become not racist; and to keep readers away from these stories is moving that "normal" goal farther into the future.
We had a discussion on my friend's Facebook page. She is of color, and she and her other of color friends were saying... hey white friends, you need to step up to the plate and help us out because a lot of white people will only listen to other white people. This is what this book is doing.
***I just found out that the ringleader took down her GR review after readers were posting the quotes she featured in context in the comments, but there are still over 700 one star ratings on the book.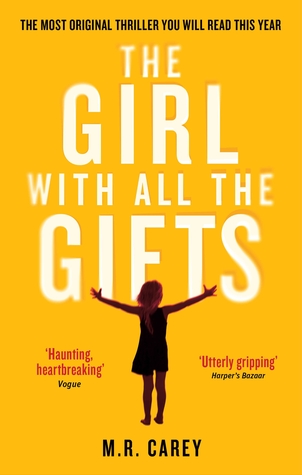 ZOMBIETHON
What are you reading? Tell me!