TELL ME TUESDAY
is a feature that oozed from the fried brains of myself and one of my best blogging buddies. It is a weekly, or bi-weekly feature (depending on your reading style), where you tell us what you are reading now, and why, and what you will be reading in the future from your tbr pile, and why. I am oh so curious why people read what they read. So tell us!
Go have a peek at their newest book grabs and tell them yours.
This week is going to be quick because my son woke me up at 1:30 am when he came home from Wing Night, and then my landlord downstairs decided to watch a movie with a lot of explosions and his surround sound cranked up at 3:45. By the time the movie was over, I had to be up in an hour so... I am CRANKY from lack of sleep.
I have to let you know about the book I finished a couple of days ago,
HOWL'S MOVING CASTLE.
It was recommended to me by A.G. Howard, the author of the SPLINTERED series. I adored it and found out there are sequels:
CASTLE IN THE AIR
and
HOUSE OF MANY WAYS
. It is also one of my favorite anime movies!
I am loving this dark tale of magic and witches as an adult, but I feel the gruesome beginning of the story was a bit much for a Middle Grade book.
I almost wet myself with excitment when I saw I was approved for ILLUMINAE on Netgalley today.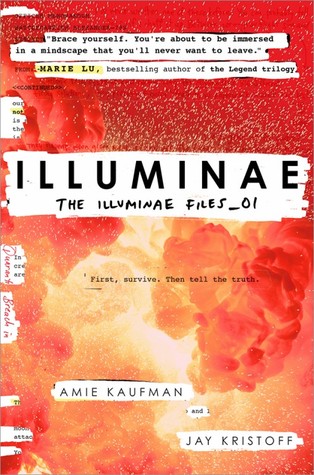 It has been getting rave reviews all over the place. However, it was not downloadable to my Kindle, and this old and tired body can't handle reading on a laptop (especially after sitting at a computer all day). I was going to read that next, but now I am unsure what it will be.
What are you reading? Tell me!