Cait at
PAPER FURY
and Faye from
THE SOCIAL POTATO
both did this tag and offered it up to anyone who wanted to give it a go. I figured because I am known to have more than a few black sheep moments this should be easy-peasy, right?
※※※※※※※
1. A POPULAR BOOK OR SERIES YOU DIDN'T LIKE...
Well, TWILIGHT, duh!
&
CITY OF BONES
&
THE LION, THE WITCH, AND THE WARDROBE
&
PERCY JACKSON
(I don't remember the title of the first book)
2. A BOOK OR SERIES EVERYONE ELSE HATED BUT YOU LOVED...
The only one that comes to mind right now is
ABOVE
by Leah Bobet. It was one of those books that, to put it politely, the "general YA reader" didn't "get". Many of the reviewer's thought the affected speech pattern exhibited by the main character, because of his childhood environment, was bad writing. The other naysayers thought they had to think too much when reading it. I was championing and defending this standalone everywhere. HOWEVER, I came across an interview where the author said that the only reason she wrote the book was to prove YA could be wrtten intelligently, and that she had no intentions of writing YA ever again. I still love the book, I just don't promote or defend it any longer. I find it funny that her new book is also YA. Ha!
3. A LOVE TRIANGLE WHERE THE PROTAGONIST ENDED UP WITH THE PERSON YOU DIDN'T WANT THEM TO BE WITH.
Nothing comes to mind so I am going to pull a Cait and fudge it a little with a removal of the love triangle.
I SHIP HARRY POTTER AND LUNA LOVEGOOD! OKAY?
OKAY!
4. POPULAR GENRE YOU HARDLY READ.
Romance.
Ugh.


5. A POPULAR/BELOVED CHARACTER YOU DISLIKE.
Ginny Weasley.
There, I have said it. I feel so much better now.
6. A POPULAR AUTHOR YOU CAN'T SEEM TO GET INTO.
It was all TALON's fault!
Just look at that beautiful cover which deceived me.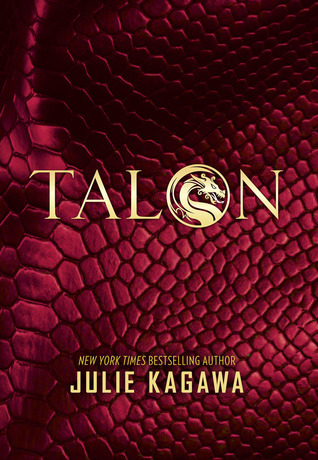 7. A POPULAR TROPE YOU'RE TIRED OF READING.
The mysterious new guy at school (with green eyes) releases the female main character's previously unknown special powers.
8. A POPULAR SERIES YOU HAVE NO INTENTION OF READING.
VAMPIRE ACADEMY
* I don't do YA vamps, angels, werebeasts (of any kind), or Gods and Godesses. Well, I do read about Lori M. Lee's immortals, but she tricked me into liking them!
9. A BOOK OR SERIES YOU WANTED TO HATE, BUT LOVED.

Hands down this would be THE QUEEN OF THE TEARLING!
When I heard that this unknown, previously unpublished author received a seven figure advance and an insta-movie deal with Emma Watson in the pocket, I was seething because so many authors work so hard and get pittance and fabulous stories get no movie deals.
I requested the ARC on Edelweiss just so I could hate on it!
BUT
It ended up being my top book of 2014.
However, the sequel, THE INVASION OF THE TEARLING, is a different matter. She did some weird back and forth mix between the fantasy storyline and a new dystopic story, and no sir, I didn't like it.
10

. A SHOW/MOVIE ADAPTION YOU LIKED BETTER THAN THE BOOK.
Definitely THE WIZARD OF OZ original movie.
I tag Elizabeth at So Long... & Thanks For All The Fish, Shannon at Rex Robot Reviews, Sabrina at Library Luv Reviews, and Erin from The Book Nut. I would tag Pili from In Love With Handmade, but she is super busy moving into her new apartment. And as Cait and Faye did; anyone else who wants to give it a whirl! Make sure you leave your link in the comments below, if you do this tag, so I can drop by your blog.
When have you been the black sheep?