FEBRUARY 2019
PINK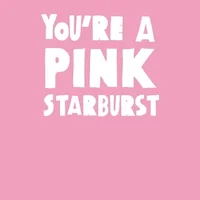 The February prompt for BURNING SOUP AND HERDING CAT's
BLOG ALL ABOUT IT CHALLENGE
is

pink

. I thought this was going to be a difficult challenge for me because I loathe the color.
Funny though... I did like it during my pregnancy and bought two

pink

maternity tops, a few pair of

pink

socks,

pink

barrettes, and yes...

pink

Converse hightops. Ha ha. I still have the sneakers somewhere. I'll have to look for them. One shirt was a floral print, which I also hate, so it just goes to show how much hormones color

pun intended

our likes and dislikes.
RUBY CHOCOLATE KIT CATS
! They originated in Japan. I first read about them in an article about
THE 350 FLAVORS OF JAPANESE KIT KATS
. I guess they are available in the UK on a limited basis, but I haven't seen them here in the US. These are not to be confused with
pink
Strawberry Kit Kats.
I identified with Iona so much!
And what was wrong with Andie?! I would have scooped up Duckie in a New York minute!
I bought this prefilled grinder for my son's Christmas stocking, and he loves it, but I guess I can buy him any salt grinder because contrary to popular belief it has no extra health benefits. It is also not from the Himalayas. Ha ha.